Wintry run on Helvellyn & Fairfield
Posted by Sam Harrison on January 19, 2015 at 13:27.
fairfield fell running helvellyn lake district scrambling snow striding edge winter running
I've been winter running in the high fells and mountains for a few years now, gradually building up my experience and kit to be able to tackle full-on winter with the confidence and knowledge that I'll be comfortable and safe. This started out by picking snow conditions when the snow would be soft and powdery such that crampons wouldn't be needed, and routes such that an ice axe wouldn't be needed, to going out with an ice axe and crampons to get a feel for them and assure my self I could trust them (and myself with them) to withstand winter. On Saturday I thought it was time to test them out on a bit more serious terrain; namely Striding Edge onto Helvellyn.
The snow was down to lake level when I arrived in Glenridding, and as soon as I was off the 4x4 tracks and onto the open fell, I was wading through knee-deep powder. As I reached the Hole in the Wall - just before the start of Striding Edge, the ever-popular grade I (grade 1 in summer as well) scramble onto Helvellyn - the powdery snow had been scoured away to leave icy patches of neve and even icier patches of ice. I decided it was time to don my crampons -
Kahtoola's KTC 10-point steel "flexi" crampons
, designed for use with running shoes - and utilise my ice axe - the super-lightweight all-aluminium
C.A.M.P Corsa
.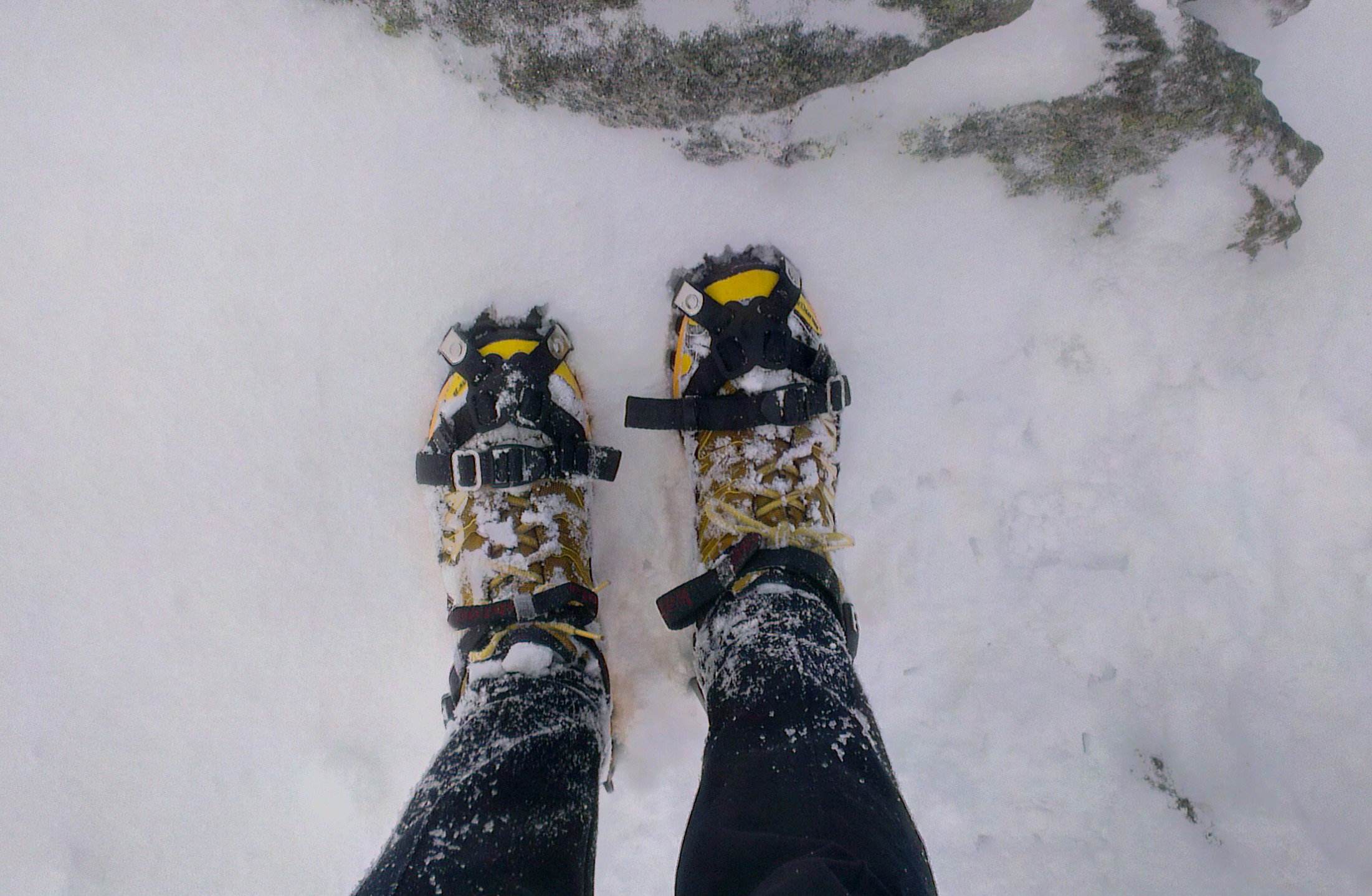 The crampons gave me excellent security, and coupled with my Inov-8 Mudclaws and Sealskinz waterproof socks makes a perfect combination for wintry running. I've maintained for a while that fell shoes give you much more stability and sure-footedness than wearing boots, simply because your feet are closer to the ground and you have more "feel" for where you're placing them (I also think that it's a myth that boots give you more ankle support and I think conversely, you're more likely to go over on your ankle whilst wearing them). This remained true whilst wearing the crampons and I was surprised at how much easier it was and how much more confidence I had in my footwork when using them on Striding Edge.
​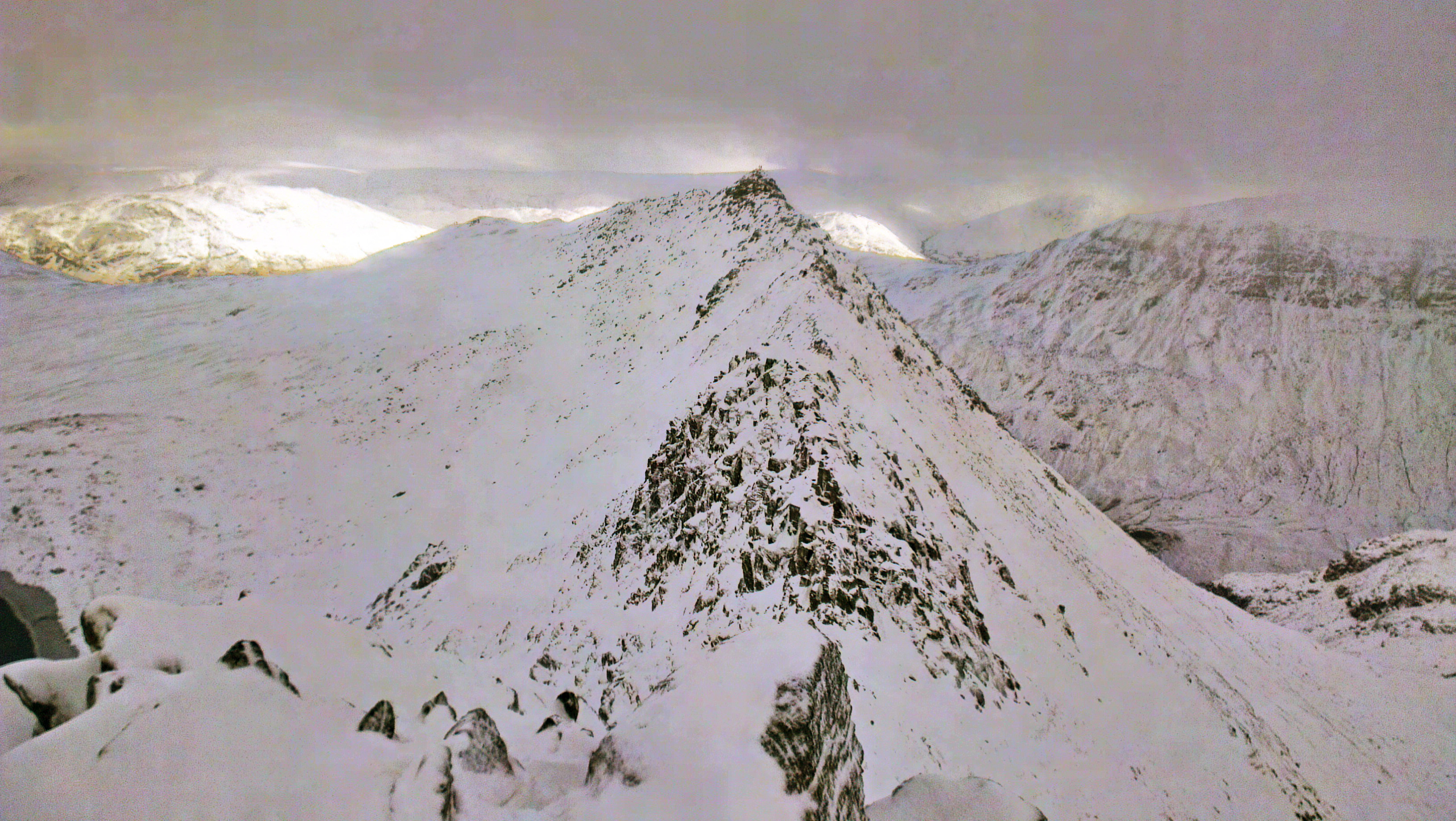 The following run over Helvellyn and Fairfield (via an out-and-back to St Sunday Crag) was sufficiently wintry to test the rest of my gear, and Fairfield in particular was the real experience with gusts of 40mph and a full-on whiteout. The summit was scoured of snow and instead a thick layer of ice covered the turf and rocks, making the crampons a saving grace. The other new bit of kit I was testing out was a
Brynje Super Thermo t-shirt
(for which there's a good review on
Andy Kirkpatrick's blog
), and I was seriously impressed at how effective it was at keeping me warm, even when I'd been sweating profusly. No more Sweaty Back Syndrome! I'll wait until I've tested it out a bit more before posting a review.
I was happy when I returned that I'd remained completely comfortable all day long; my hands never got cold (very strange for me!), nor did my feet or my core, and I'd packed just the right amount of gear to be confident I had enough layers to keep myself warm in the event of an emergency, whilst being lightweight enough to be able to run. I thought I'd post my kit list here in the hope it'll help out any more aspirant winter fell runners out there in getting out into the high fells in winter:
What I was wearing
Ron Hill tracksters - y'know, the classic pair that still costs around £10. You seriously can't beat them!
Brynje Super Thermo t-shirt
Icebreaker 200-weight merino base layer
Paramo Fuera windproof smock
Montane Prism insulated jacket - only worn going over Striding Edge and when summitting Fairfield
Lowe Alpine PowerStretch gloves
Extermities Super Inferno mitts - worn on and off all day (mostly on!)
Standard weight Buff (well, an imitation Buff)
Thin pair of cotton socks (M&S I think...)
Sealskinz Trekking waterproof socks - brilliant at keeping feet warm on snowy days
Inov-8 Mudclaw 300s - great grip on icy ground when it's not so icy that crampons are needed
What didn't get worn (aka emergency layers)
North Face PowerStretch fleece
Berghaus GORE-Tex Paclite jacket
Berghaus GORE-Tex Paclite overtrousers
Blizzard survival bag - seriously recommended to anyone going out in winter
A fleecy Buff
Other kit
Inov-8 RacePac 25 rucksack
Kahtoola KTS steel crampons
C.A.M.P. Corsa ice axe
Exped dry bag (one of the bigger ones that'll fit around 25 litres in)
OS 1:25 map and Silva compass
Petzl Myo head torch
500ml water
Banana malt loaf (by far the best malt loaf!)
Duck tape, spare chord (e.g. for replacing shoe laces), plasters, ibuprofen, hand warmers
Phone (which will give me a grid reference if need be)
What I wish I'd taken but didn't
I hope that helps someone out there, and hey, if it does, post a comment below or drop me an email, I'm always keen to know! And just to be on the safe side, that list comes with a disclaimer:
Those are simply the items that I found worked well for me for the particular conditions I was in. I adapt my kit habitually for different conditions and ultimately, what works for one person might not for others. Use it as a starting point and adapt as you see necessary.
Happy running!