Gillercombe Buttress
Posted by Sam Harrison on July 23, 2015 at 16:32.
borrowdale classic rock climbing gillercombe lake district multi-pitch
This always happens; I tell myself at the start of the year that I'm going to really work on my climbing and then come midway through summer I realise I've only been out a handful of times and definitely haven't got any better. I suppose the important thing is that I enjoy the climbing I do, and last Saturday was a very enjoyable day out.
The forecast wasn't looking all that good, and we knew from the start it'd probably be a case of getting in as much climbing as possible before it started chucking it down. Ben & Jim picked me up at 8am from Carnforth and the vague plan was to head north up the M6 and see what happened. The skies weren't looking too ominous as we drove past the eastern Lake District and so we found ourselves in Borrowdale, with the options of Sherpheard's Crag, the Troutdale Pinnacle or taking a gamble with a mountain route. The rain still hadn't arrived and so we took the gamble, and after warm work slogging up beside Sour Milk Ghyll, we found ourselves at the base of the
Classic Rock
multi-pitch Severe, Gillercombe Buttress.
The wind was strong, making it utterly freezing waiting around at the bottom of the crag whilst Ben dispatched the first pitch (which was actually guidebook pitches 1-3). Jim commented that by the time he set off up the route has was wearing the same amount of clothes he does on your average winter climb, and I certainly wasn't looking forward to taking my gloves off when it became my turn. The first pitch was very enjoyable; after a few metres warm up on easy-angled slabs, a square recess was gained which took a bit of thought about how to climb out of it and after a bit more easier climbing, a delicate traverse was met with superb exposure. The two mini-cruxes get a 4a technical grade in certain guide books, and to me that felt apt.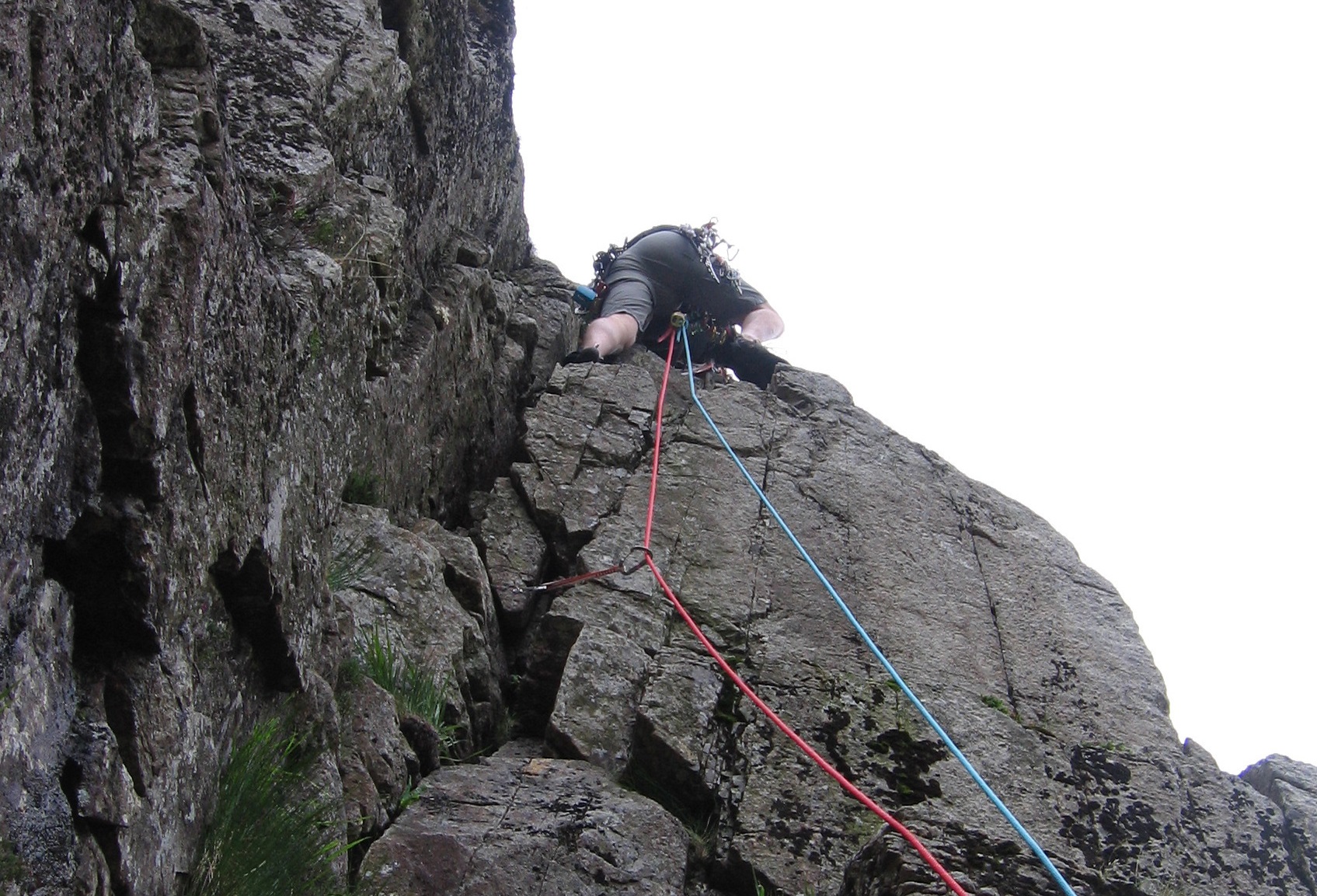 ​
After some easy scrambling we arrived at an awkward off-balanced corner, which lead to another blank-looking corner (good footholds saved the day) before another broken section. Rock shoes and heather don't mix, and scrambling to the bottom of the final technical pitch was particularly unpleasant; perhaps we strayed too far to the right as there didn't seem to be much sign of others having taken our route. The final pitch was spectacular, though I was glad I wasn't leading, especially as it had started spitting by this point. An exposed, polished and steep crack awaited us, gained after an airy step out from the belay ledge over Gillercombe Chimney. Fortunately, a few small footholds left of the crack made it passable and suitable handholds ensued until a overhanging bulge blocked the way. To avoid, an exposed traverse out left on little handholds and little in the way of footholds was needed, and despite the rope above me, it was a tentative moment. Easier climbing then lead the way to the top, just in time for it to start chucking it down to ensure we were thoroughly drenched by the time we arrived back at Ben's car in Seathwaite.
The route had a real mountaineering feel about it, and whilst it doesn't offer sustained unbroken climbing, it does bring a fun and involving way up onto the summit of Grey Knotts. Thoroughly recommended, though don't underestimate it.
P.S. UKC's claim that it's an S 3c is rubbish; those technical pitches were definitely above 3c and the final crack more akin to 4b.