Patterdale to Honister via Pinnacle Ridge
Posted by Sam Harrison on August 7, 2015 at 15:50.
fell running honister lake district patterdale pinnacle ridge scafell pike scrambling
The next step in my training regime for the Glencoe Skyline was to incorporate a suitably-graded scramble within a long run, and pretty much the only scramble in the Lakes fitting the criteria was Pinnacle Ridge onto St Sunday Crag. I've soloed up the route many times before and was confident that bendy fell running shoes wouldn't pose too much of a problem on the crux wall. In fact, I purposefully picked my bendiest pair of shoes (a pair of New Balance trail running shoes) to test them out.
I wanted to do a linear route (and Lorna had the car for work anyway), but public transport in the Lakes doesn't half make logistics complicated. I eventually figured out that the earliest I could get to a good starting destination was half nine at Patterdale (and that meant leaving the house at 0615), leaving me nine hours until the last bus from Honister Pass, which I figured should be plenty of time to make the traverse.
The weather was cloudy with patches of sunshine, but there was a stiff and cold wind that actually made for pleasant running conditions. I found Pinnale Ridge without difficulty (a rowan tree at the bottom of a steep scree slope leads the way up to it) and made quick progress on the easy scrambling before the crux. The route, nominally a grade 3 scramble, only really gets its grade for a steep crack in a wall and the exposure over the ensueing pinnacles (from which it gets its name). The rest of the scrambling is easy, much more akin to grade 2. The crux looks imposing when you arrive at it and I soon discovered that fell running shoes were a bit of a hinderence; stiff-soloed boots in the past had enabled me to jam my foot into a crack for a foothold, but my flimsy trainers were having none of it. After a moment of pondering what the alternative options were, I discovered a great recessed hand-hold on the right and used it for security as I bridged my way up, using the rock behind me for support whilst smearing my feet against the crack in front. I soon reached a good foothold and a good series of jugs above lead to the pinnacles. Grade 3 the route may be overall, but I definitely think this crux wall feels like a hard Diff. A bit of a tricky downclimb from the pinnacles (face in towards the rock and move left at the bottom until you can reach a detached spike with your left foot) brings you to a broad col and a few more scrambling moves sees you to the top.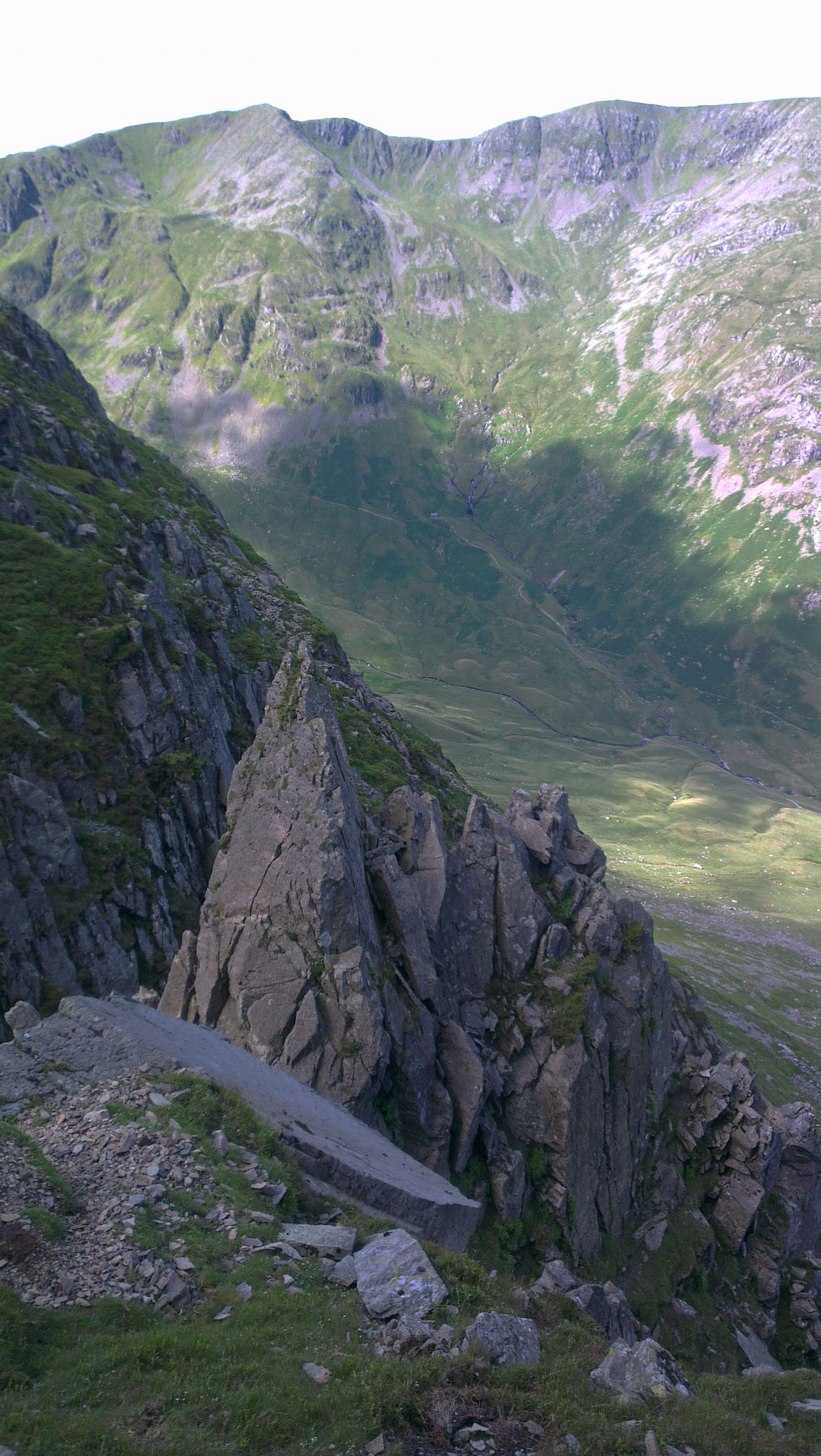 Time was pressing on once I reached the top of St Sunday Crag and I tried to pick up the pace a bit over Fairfield and Seat Sandal to Dunmail Raise. Worryingly, my legs had already started to ache; I think the scrambling must have taken more energy than I'd imagining. I picked a terrible line from Steel Fell to Seargant Man (honestly, I'm not sure how I got it so wrong, it's not like there isn't a good path leading the way...) and ended up bog-wading, slowing me down even further. Fortunately the route from Thunacar Knott towards Esk Hause is one I know very well, and after a couple of Chorley cakes I was starting to feel a bit less tired.
I initially had the idea of dropping down to Langdale and climbing back up The Band onto Bow Fell, but I knew full well if I did so I'd have to miss out Scafell Pike to catch my bus. Instead, I opted to go straight for the summit of Scafell Pike, via Esk Hause and the very-busy tourist route over the rocky landscape of Great End and Ill Crag. The summit was at full capacity, as was the Corridor Route down to Styhead Tarn, and I had difficulty picking my way through the crowds. Popular summits are always a bit of a strange experience when out running; the masses simply don't expect to see runners up in the hills and react either with encouragement, shock or disdain: I got the full range today, from cheers and rounds of applause (quite nice, if not a little embarrasing) to the usual "oh my god, he's running", to the all-too-frequent "he must be a bloody nutter" and "what the fuck is he doing?" (to which I felt the necessity to shout back "I'm running, what does it look like!?").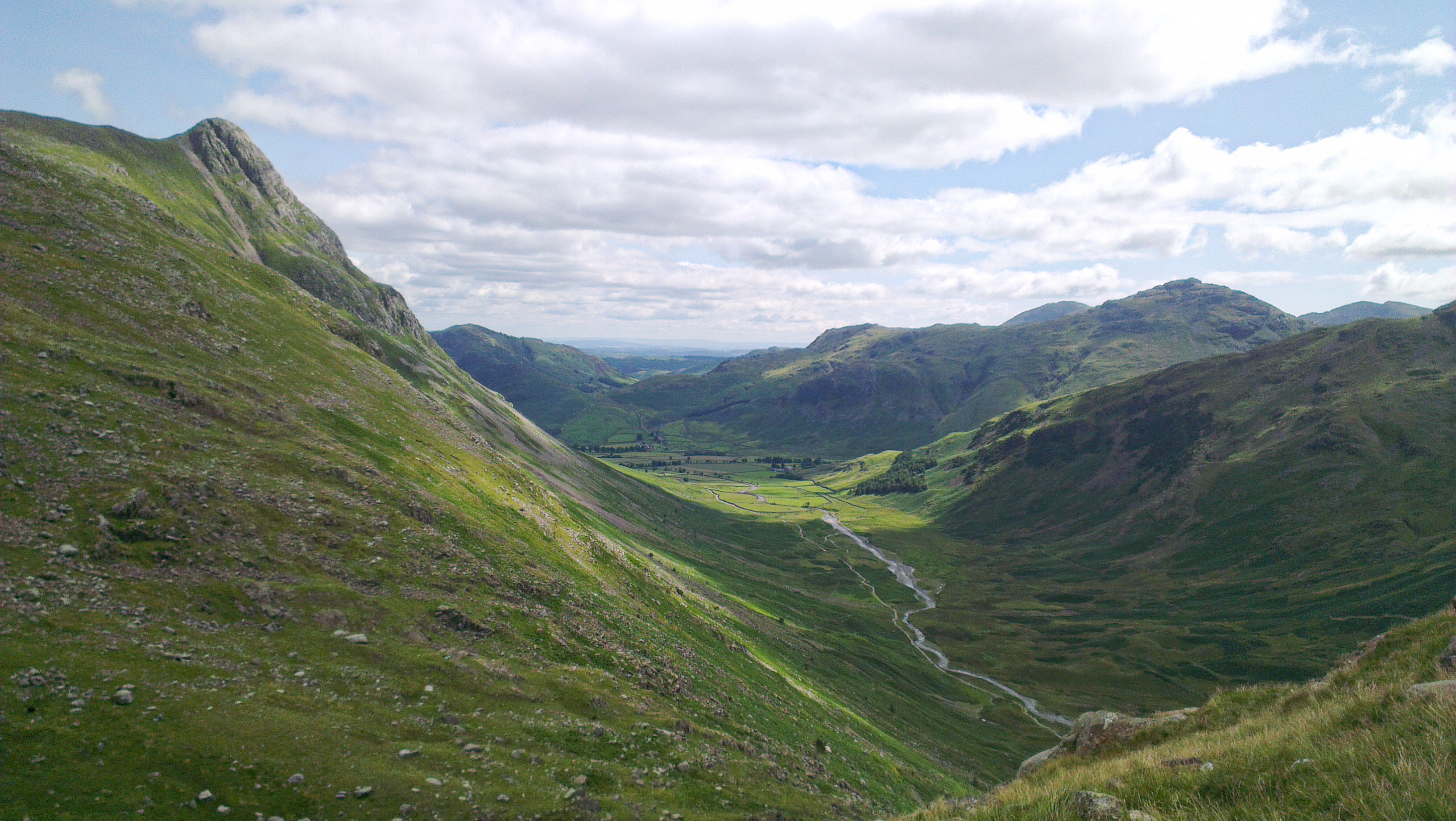 ​
I figured that I just about had the time to head up and over the Gables to Honister Pass and still be able to catch the 1731 bus I was aiming for (the last bus of the day would have meant me arriving back in Carnforth at midnight, something I was keen to avoid), and to my relief I had this final section of the route all to myself. My energy levels had picked up no end and I found myself wishing I could head up onto Dale Head for the run over Maiden Moor and Cat Bells to Keswick; maybe another day!
​