New Dungeon Ghyll race
Posted by Sam Harrison on April 7, 2014 at 16:19.
fell race fell running harrison stickle langdale new dungeon ghyll
I'm quite a fan of straight up-n-down races and so have had the New Dungeon Ghyll fell race on my radar for a few years. This year it actually turned out that I was free for it and hence I found myself on a wet and gloomy Saturday morning handing over my £4 for four safety pins and a piece of paper with a number on it.
Strangely, the race doesn't normally attract many runners; normally around the 40 mark. This year was no different, the field was 39 strong, probably due to the British (and Lancashire) champs race being held at Pendle on the same day. The race follows the path up Dungeon Ghyll to the summit of Harrison Stickle, before descending by a traverse first eastwards down a gully and then south-westwards under the summit crags. It's a devious line that (so I was warned by the eventual winner of the race minutes before that start) is hard to get right. I was still confident; I'd studied the contour lines intensely and had all the key bearings jotted down ready for deployment should I lose sight of someone who looks like they know where they're going.
At 11am sharp we were off, and within minutes I was glad I'd decided to take off my waterproof and wind shirt. I started off up the paved path in 4th place, trying my hardest to cling on to the position as we worked our way into the clouds. A few passed me and I passed a few, and others started emerging out of the mist who had obviously taken variable lines. I tagged on behind Mike Robinson and kept him and a few others just about in sight until the summit.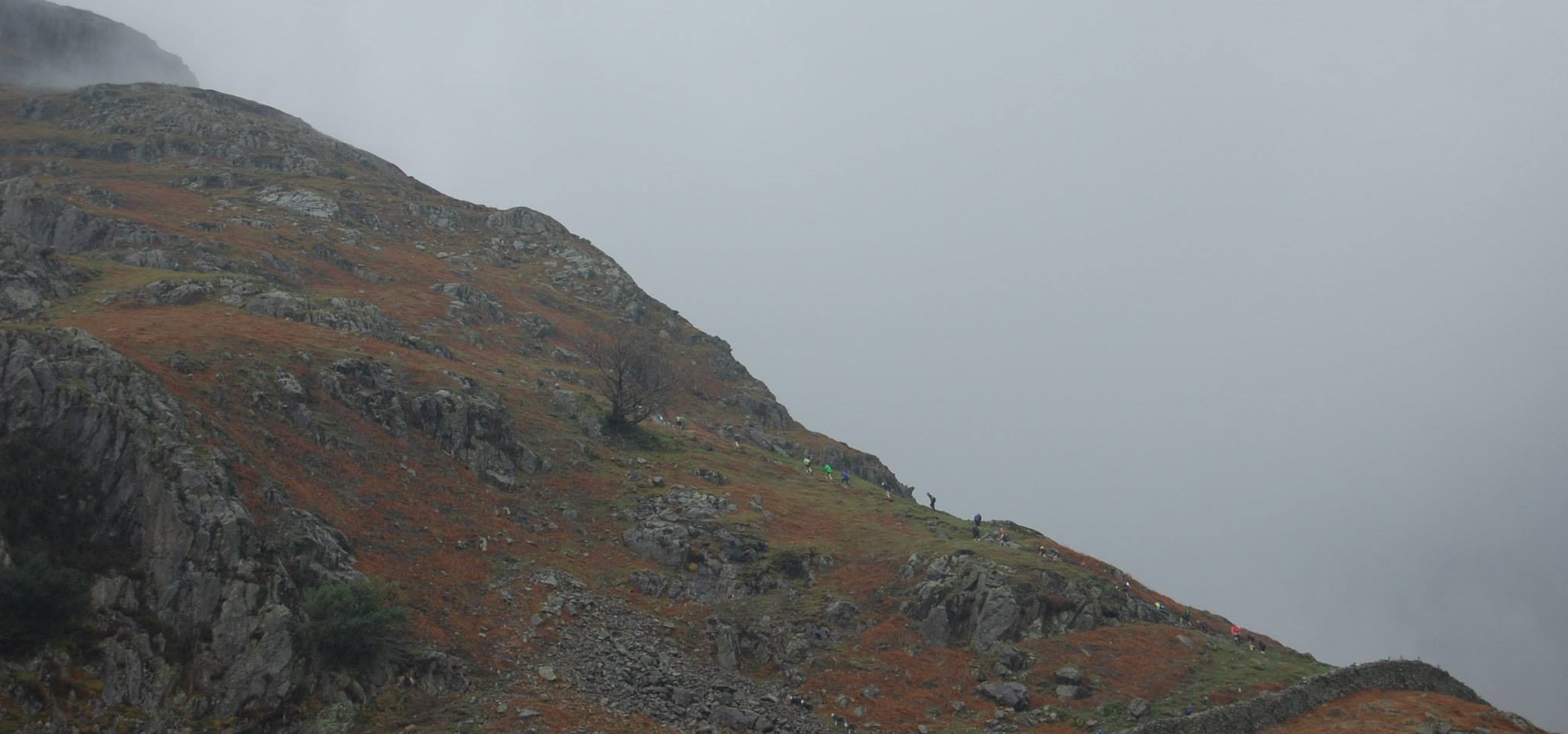 Mike soon shot off into the distance as a group of us worked our way down the steep eastern gully in more of a controlled fall than a run. We had a few moments on the path down to Stickle Tarn, before veering off right-wards to begin the traverse. The ground was grassy, steep and wet and therefore very hard going, as I discovered when I went sliding and bashed my knee on a sharp rock. With my knee throbbing and blood pouring down my leg, I thought it was best to slow down a little, and I soon lost track of those in front.
Fortunately, the traverse was soon over and I re-joined the path we followed up for the final sprint down the slippery paved slope to finish in 9th position in a time of 48:31. Mike Robinson won in a time of 43:16, demonstrating some seriously impressive descending!