Posted by Sam Harrison on February 24, 2014 at 06:48.
alpkit backpacking bivvy stove
An in depth look at Alpkit's new Kraku stove, possibly the world's lightest commercially available stove. The Kraku's feather-like weight and cheap price make it almost a no-brainer, but a small burner size lets it down.
| | |
| --- | --- |
| Brand & model | Alpkit Kraku |
| RRP | |
| Good points | lightweight, price |
| Bad points | small burner size, incompatibility with certain gas canisters |
| Best uses | Backpacking trips, Alpine bivvies |
| Rating | |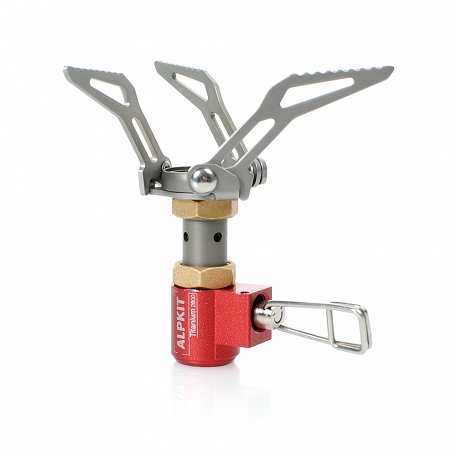 ​Just in time for Christmas, Alpkit released what they boast is "possibly the world's lightest, commercially available, ultralight gas stove". The Kraku, which weighs in at an incredible 45g, is made by the Chinese manufacturer Fire Maple, and is effectively the Fire Maple Hornet stove rebranded in Alpkit red and with a new name. The biggest difference between the two is the price: the Hornet was previously available for around £40-50, whilst the Kraku is a bargain £25 £20 (Alpkit have reduced their price!).

The stove is of the conventional screw-on-to-gas-canister variety, and so I naively thought that I would be able to use a GoSystem canister. Upon trying to do so I realised that the stove fouled the lip of the canister and had to be screwed on very tightly to even work. I decided this probably wasn't the best idea and so tried it with a Power Gas canister. This time the stove didn't touch the canister and worked perfectly. A few days after initially testing the stove I received an email from Alpkit notifying me of the problem and advising me that:

When the stove is fully attached the stove should come very close to the lip of the canister but should not touch or exert any force that would cause the stove to malfunction, as a rough guide you should be able slide a piece of paper between the canister and the stove body
It was on last week's Winter ML course that I first got the chance to use the stove, in the rather challenging conditions of a snow hole in the Cairngorms National Park. The stove was sufficiently powerful (nominally 2600 W) to make quick work of boiling water and melting snow in the cold conditions. It does make a racket whilst doing so, but not as much as some other gas stoves such as MSR's Pocket Rocket (or indeed most petrol-powered stoves). Of course, the major selling point of the stove is its weight and its so light that the major weight-saving issue becomes which size gas canister to take (the smallest you can can get is twice the weight of the stove itself!). This coupled with the price makes it a no-brainer really: if you're after a light weight backpacking stove then this should be it.

Or should it? My one criticisim of the stove would be its small burner size resulting in a "hot spot" when used with wider pans, however owing to its other advantages I was willing to forgive it this flaw - nothing can be perfect, right? Well, upon doing a bit of research for this article I stumbled upon another of Fire Maple's stoves, the FMS-116T, which is effectively the Kraku but with a wider burner and only 3g heavier. My mouse point is tentatively hovering over the "Add To Basket" button as we speak...

August 2014 update: Further thoughts and a better alternative
I've been using this stove for half a year now, and generally speaking I'm very impressed. The built quality is good, tough the little wire to turn the gas on/off does seem a little flimsy.
For boiling water, it's ideal.
However, the small burner size is an issue as it creates a real hot spot on any pan you use. This obviously isn't good for the metal the pan's made of, but also makes cooking anything without burning it pretty difficult, even with stirring. I'd steer well clear if you pan is titanium. Cooking food like couscous or dried pasta meals is
just about
possible, but constant stirring is needed.
So, how about this aforementioned alternative with a wider burner, the FMS-116T? Well it turns out that Karrimor are selling this stove branded as the Karrimor
X Lite Titanium Stove
, for a bargain £15. I decided to invest in one in time for a two-week trip to the Alps, giving me plenty of time to test it out.
Karrimor X Lite Titanium Stove
The stove is effectively the same as the Alpkit Kraku, but with a wider burner. As such, the first thing I noted was that it suffers the same incompatibility with certain gas canisters. I had a few problems using it with a Coleman 220g cylinder (not all of the burner would light all of the time), but it did work perfectly with various sized Power Gas cylinders.
Whilst the extra weight isn't noticeable, the fact that the stove is bulkier definitely is. If you try to cram all of your cooking gear into a pan when packing, like I do, you'll notice the difference. In fact, due to this I opted to take the more compact Alpkit stove with me when heading to bivvy huts in the Alps.
The wider burner makes a huge difference, I was quite astonished how much better it was to cook with than the Alpkit. It's still not a massive burner, so you won't be wasting excess gas with flames pouring around the edges of your smaller pans, but it's big enough to make cooking couscous without leaving a burnt mess on the bottom of your pan entirely possible. My only complaint would be that mine seemed to having a somewhat dodgy regulator; when trying to turn the gas down it would sometime go up momentarily before going down.
October 2014 update
Apparently the gas-canister-compatibility issue has now been resolved: "It was a problem with the screw thread that has been resolved" - from Alpkit posted on the
UKC forums
. Alpkit also have an exciting looking new stove on offer, the
Koro
, which the gas canister attaches to via a hose rather than sitting underneath it (much better in colder conditions). Alpkit say it is "a high powered gas canister stove suitable for mountaineering in subzero conditions and made out of titanium to save weight. An expedition needs plenty of firepower and the Koro remote canister stove has this in plenty. But this is no gas guzzler, a brass pre-heat tube ensures the fuel is vaporised by the time it reaches the burner. The result is a constant and controllable flow of gas which reduces spluttering and works better in freezing conditions."
And at £35 and weighing only 124g, it's certainly tempting! It's made by FireMaple again, but this time it's an exclusive for Alpkit and so won't be found branded differently elsewhere.
Conclusion
The Alpkit Kraku is a great stove, suited perfectly to boiling water on backpacking or mountaineering trips where saving every gram of weight and inch of space that you can is an essential. However, for tasks other than boiling water, a far superior alternative is the Karrimor X Lite Titanium Stove, which retails for £5 less than the Alpkit and whilst being a bit bulkier, weighs only 3g more. Be careful which gas cylinder you use both with, and make sure a piece of paper can be slid between the stove body and the gas canister before using.